No merchant or financial institution looks forward to chargebacks. Regardless, knowing what to do in the face of a dispute is essential for every issuer, acquirer, processor, and merchant.
Is there a way to make the system work better for everyone? What do new and established issuers and acquirers need to know to streamline the chargeback management process? In the latest episode of Fintalk, our ongoing live podcast series featuring conversations with industry trailblazers, trendsetters, and respected corporate leaders, we set out to answer this question.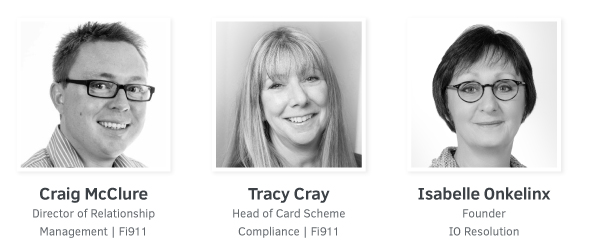 This week, host Steve Warner sat down with Craig McClure (Director of Relationship Management, Fi911), Tracy Cray (Director of Card Scheme Compliance, Fi911), and renowned chargeback expert Isabelle Onkelinx (Founder, IO Resolution). Over the course of their 40-minute conversation, Craig and Isabelle exchanged opinions and ideas about the roles each party plays in the chargeback process. Among other topics, they discussed:
How chargeback procedures and rules regulate behavior.
What new issuers need to know to ensure chargebacks are processed correctly.
The importance of continuing education for established issuers.
Why acquirers need to check the validity of all chargebacks they receive.
…and much more.
As experienced payments professionals, everyone wanted to maintain a nuanced, yet realistic conversation. "I often say that the chargeback system that was invented many, many years ago is absolutely brilliant," Isabelle mentioned. It really makes sure there's a process in place to prevent rogue behavior."
Of course, as Tracy points out, this can also create issues in other areas. "That sometimes has a detrimental side of things, in that the cardholder is too quick to go to the bank, or the issuer, to try and get their money back instead of trying to sort something with the merchant," she says.
Check out the full video of Fintalk Episode 4 below: