The travel space was hit hard by the Covid-19 pandemic. This created a need to explore new options in payments and payment methods, while consumers came to view chargebacks as a more important safeguard than ever.
How will these facts impact the merchant/acquirer relationship? What new opportunities—and risks—exist for travel? We address these and many other questions in the latest episode of Fintalk, our ongoing live podcast series featuring conversations with industry trailblazers, trendsetters, and respected corporate leaders.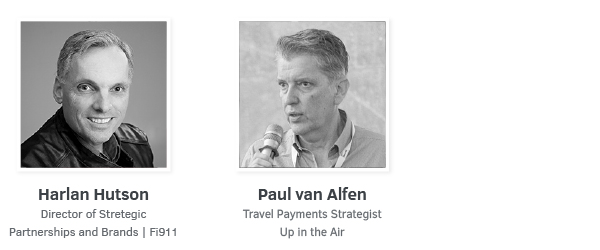 In this week's episode, Harlan Hutson (Director of Strategic Partnerships, Fi911) sat down with our good friend Paul van Alfen (Travel Payments Strategist, Up in the Air). During their conversation, Harlan and Paul touched on a wide variety of topics, including:
Uncovering the "good, the bad, and the ugly" of post-pandemic travel payments
Changes to consumer behaviour since the lockdowns began
The rise of alternate payments in the travel space
The dynamics and variety in global payment preferences and technologies
Innovations in travel industry technology in response to Covid-19
…and much more. Most importantly, Harlan and Paul discussed the specific risks that merchants and financial institutions need to know about. For instance, the ease of filing chargebacks on mobile transactions has serious ramifications. "It helps gives confidence in the use of cards overall, but it also probably makes more people aware of [the chargeback process], and they might try it out in other areas as well," Harlan explains.
Check out their full conversation below: