We've observed a substantial rise in friendly fraud as a regular theme in commerce over the last decade. There's been a general outcry among merchants on the topic, and card networks have taken notice. Visa, for one, is taking steps to challenge friendly fraud directly from their merchant dispute portal.
Visa Compelling Evidence 3.0 will expand the list of compelling evidence merchants can provide to help invalidate certain customer disputes. It will improve merchants' chances of winning those disputes.
What is Visa Compelling Evidence 3.0?
The Visa Compelling Evidence 3.0 ruleset applies specifically to disputes marked with a Visa reason code 10.4: Other Fraud–Card-Absent Environment. Said reason code is most often associated with friendly fraud due to its generic, open-ended nature.
Once in effect, Visa CE 3.0 rules will allow merchants to submit historical purchase evidence to prove the cardholder was behind an order. If certain elements can be verified (device fingerprint, IP address, etc.) to have been used in two previously undisputed transactions, any current fraud claim will be denied.
The Visa Compelling Evidence 3.0 initiative is scheduled to launch on April 15, 2023.
How Does Visa Compelling Evidence 3.0 Work?
Merchants are required to supply compelling evidence to contest disputes. Visa Compelling Evidence 3.0 expands the definition of compelling evidence (with regard to reason code 10.4). Visa CE 3.0 rules require merchants to produce two transactions, both of which must be older than 120 days and neither of which has been previously reported as fraud. These must also be associated with the disputed transaction, but only two of the following four points need to connect:
IP address
Device ID or fingerprint
Shipping address
Account login ID (mandatory match)
In addition to the account credentials, at least one of the submitted data points must be the IP address or device ID. This chart provides a side-by-side look at the old and new requirements.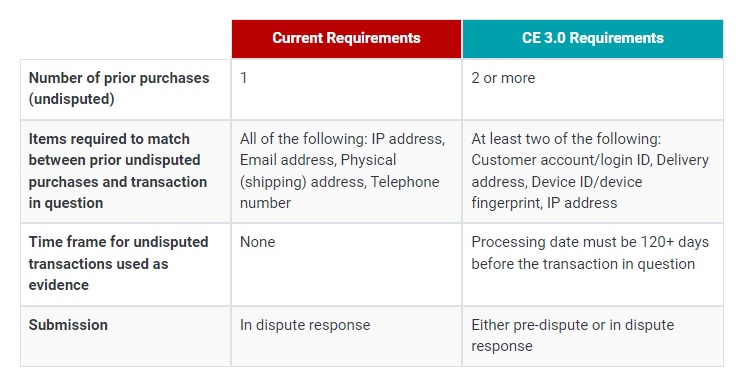 Source: Chargebacks911
Once Visa Compelling Evidence 3.0 goes live, merchants will only be able to submit prior transactions that are at least 120 days old. So, it would be wise to advise your merchants to have a system in place for cataloging that information.
The purpose of the 120-day limit is to allow merchants to use a previous undisputed sale as evidence. Any such transaction will do.
Benefits & Drawbacks of Visa CE 3.0
Visa's CE 3.0 boasts numerous potential benefits for merchants. They will see:
Fewer Chargebacks: More options for evidence—and the opportunity to present evidence earlier—are sure to reduce the number of chargebacks your merchants receive.
Lower Chargeback Rates: Preventing chargebacks leads to a lower overall chargeback ratio, which benefits everyone involved by saving time, money, and headache.
Streamlined Representments: Visa CE 3.0 rules provide a broader range of methods to fight fraud and recover revenue.
At the same time, there are some issues to consider. Specifically, there's the fact that the rules are far more stringent than they were previously. Matching two factors from two previous orders with a current transaction can also be a confusing and unnecessarily nebulous process. It will increase merchant workload without extending time limits.
Aside from this, there is little certainty about which merchants would benefit most from this rule and which would potentially struggle. Seemingly, the ruleset appears to be most beneficial to subscription-based merchants with a built-in ability to track and link orders with various similarities. How it will affect brick-and-mortar merchants and established eCommerce merchants remains to be seen.
It is also important to note that the ruleset has not launched yet. Thus, many details are still left to the imagination. With April 2023 still months away, the finer points of the rollout await further clarification from Visa.
What Advice Should FIs Provide to Their Merchants?
Until Visa CE 3.0 launches, merchants could be advised to prepare as swiftly as possible to take advantage of the benefits. This is done by:
Preparing Their Data: Visa CE 3.0 options will be of minimal benefit to merchants without ready access to historical transaction data. Merchants are advised to streamline any systems in-place to accommodate this demand sooner, rather than later.
Embracing Order Insight: Order Insight can drastically improve a merchant's interaction and collaboration with Visa during a dispute. Merchants are strongly encouraged to consider embracing this platform before utilizing Visa CE 3.0.
Ask An Expert: Banks are uniquely placed to assist merchants during this transition. Banks are able to provide a wealth of expertise that many merchants would find extremely helpful in this process.